Our Savior Lutheran Church & School
⋅ Grace to you and peace from God our Father
and the Lord Jesus Christ ⋅
Ephesians 1:2

Our Savior Lutheran is a member of The Lutheran Church-Missouri Synod
 ~ Join Us ~
Sundays
9:00 Divine Service
10:30 Adult Bible Study
10:30 Sunday School & Youth
†
Wednesday Services
5:00 p.m.
Sunday Services are often live-streamed on our Facebook Page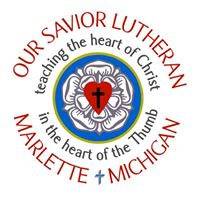 Located in Marlette, the heart of Michigan's "Thumb", the ministry of Our Savior Lutheran focuses on "teaching the heart of Christ". This means that the teaching and preaching of God's Holy Word in its truth and entirety are first in all we do. Whether you're a worshiper in the pew during the Divine Service or a student in one of our classrooms, you'll soon discover, "we preach Christ crucified … the power of God and the wisdom of God." (I Corinthians 1:23a,c) There is no better Good News than this ~ to know that our almighty, wise, and merciful God sent His only Son to take away our sins and give us eternal life.
Our Schedule
Click below to see the Service schedule and current calendar.
Our School
Learn more about our Preschool and
K-6 Program.
Find Us
We are located at 6770 Marlette Street in Marlette, Michigan 48453
Our Savior Lutheran is committed to provide spiritual direction and quality education in obedience to Christ's command.